J. Duffy Palmer
Attorney at Law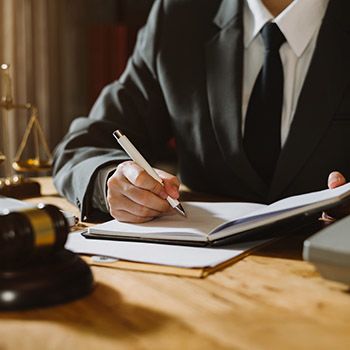 Duffy Palmer is a licensed North Carolina attorney and the founder and owner of Palmer Estate Planning (Law Office of J. Duffy Palmer PLLC, a North Carolina law firm). His firm's mission is to strengthen families through holistic and comprehensive estate planning.

When it comes to Estate Planning, Duffy realized that many people either do not know what happens to their assets after death or they do not want to think about it, and both scenarios far too often leads to undesirable surprises for loved ones left behind. Duffy also knows that some people know they need to do something, but just do not know the available options to make sound informed decisions. Duffy loves to educate people and help them create estate plans to bless them and their families.

Duffy grew up in Henderson, North Carolina where he was raised by his hardworking parents as the second of five children. Growing up, he loved to be outside riding bikes, exploring, and playing sports. He acquired his passion for helping people by looking after his younger siblings and by volunteering in town and within his church. His parents instilled a strong work ethic, and so he began working at age 15 while playing on his school's football, basketball, and baseball teams.

After graduating from Northern Vance High School, he went off to Ricks College in Rexburg, Idaho. After his freshman year, he took two years off from college to serve a full-time volunteer mission for his church in Peru. While there he learned many other invaluable life lessons with the most significant being that he was most happy helping other people. Upon returning to college he continued volunteering for various local organizations. While he was in Peru the college became Brigham Young University Idaho and he earned a degree in Sociology with minors in Spanish and Criminal Justice. He was an honor student three (3) times. His biggest accomplishment while in Idaho was marrying his eternal companion, Kathryn who is also from North Carolina. Upon graduation, they returned to North Carolina to start their new life together.

They landed jobs in Durham and Duffy began working for a non-profit helping people with disabilities get and keep jobs while his wife became an elementary school teacher. He was promoted to manager and guided the program to help hundreds of people get jobs when they didn't have one. Duffy and Kathryn began their family, having their first son. Duffy was later hired by an international human service company where he was a Clinical Supervisor of two group homes located in Durham. This was a priceless experience to see firsthand the lives of people with significant disabilities living in Medicaid-funded group homes. He then was hired by The Arc of the Triangle as a Director. He led the organization to grow four times the size when he arrived. This work gave him a deep understanding of family life with children with special needs or disabilities living at home. It taught him that many families lack access to legal services and an attorney who truly understands their unique needs.

Feeling a need to be more technically equipped to help people, Duffy decided to attend the North Carolina Central University School of Law. He studied in the evening program to be able to support his family while earning his law degree. This phase of his life allowed him to increase his dedication, time management, and focus, as he and his wife welcomed a new daughter during the final exams of his second year of law school. Upon passing the bar, The Arc promoted Duffy to General Counsel. While he loved that role, he missed working more directly with families so he decided to pursue the private practice of the law. And not too long later, Kathryn and Duffy welcomed another son to their family.

Duffy has served hundreds of people as an Attorney over several years helping them with all their estate planning needs. The legal services he provided included a wide range of legal counsel and document drafting that included creating customized trusts to avoid probate, protect assets, and avoid unnecessary taxes, putting in place proper and up-to-date Last Will and Testaments, preparation of directing affairs upon sickness or incapacity, special needs planning, and guardianship and competency issues. The experience of helping so many people alleviate their worries, and concerns brought his clients relief and Duffy pure joy!

The opportunity and blessing to create and run his own law firm is a dream come true for Duffy! His unique approach to teaching estate planning strategies in relatable, everyday terms, his deep passion to address every client question, concern, and worry, as well as his big-picture understanding together with his detailed execution, allows his clients to trust and appreciate him!

Duffy serves families throughout North Carolina in the Triangle, Triad, Charlotte, Wilmington, and surrounding areas!
Let me show you how creating an estate plan can bring you peace of mind going into the future.
Bar Admissions
Education
J.D. - North Carolina Central University School of Law

B.S. - Brigham Young University - Idaho